Set Design, Construction and Graphics
CVC have years of experience when it comes to creating practical staging solutions and effective set designs and backdrops. These may take the form of traditional craft constructions using the wide range of materials now available, projected backdrops which are becoming popular or a creative combination of both.
CVC is keen to promote the use of stock components and projected backdrops as this approach is more friendly to the environment as well as being cost effective financially for the client.
Presentation Graphics
Most presenters these days are familiar and indeed totally competent at building their own presentations, often including video clips and other types of media. For those who require assistance, CVC are happy to advise or to create bespoke presentations, soundtracks, video, slides for graphics for conference programme and presenter support.
Case Study: RE:Inventing Business Sheffield 2009
A recent international business conference called for a modern set design using all the elements of traditional construction skills and projected graphics.
The CVC approach was to design a set in the style of a television studio to give the feel of a business current affairs programme. Based around a theme provided by the client, the flexible design enabled various changes to be made by the client in the lead up to the event without serious cost implications.
The theme was carried through into the workshop seminar rooms, the registration and catering areas. The delegates' route between all the different areas involved a journey up and down corridors and lifts, so a series of displays with direction signage ensured everyone knew which way to go.
Design for the registration desk & the finished item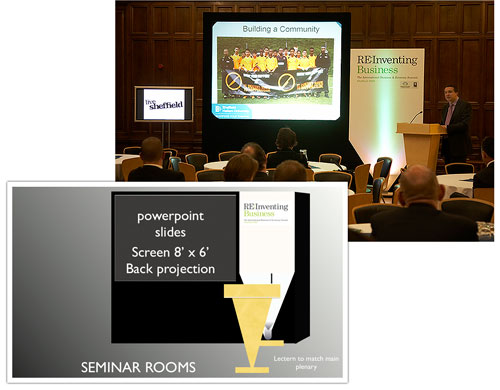 Design for the seminar presentation suite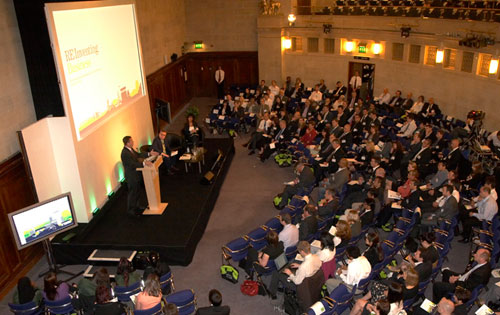 A breakout room
Case Study: Global Manufacturing Festival 2012
The main conference and exhibition event of the Global Manufacturing Festival 2012 in Sheffield called for a prestigious set design to create audience impact. The solution devised by CVC was modelled on a TV news set to lend authority to the speakers and proceedings. The set consisted of large central screen filling the back of the stage with an area to one site from which speakers could present Q &' A's and topical discussions.
Early concept work for the set design
A speaker presenting from the custom-made, stainless-steel lectern
Recent Projects
A proposed set design for the Sheffield Business Awards